Better Unity, Active in our Community
20-27 October 2015, Sweden
Leon Gojani, leader of the group:
"It all started a year ago when FoTA contacted me via email and showed us the idea of this project and cooperation.  Since the beginning, it seemed a great idea, great project and exciting experience.
Then FoTA visited us in Kosovo during the summer when we had a chance to talk more about the technicalities, participants as well as the programme.  Meanwhile, ARDHMERIA made an open call and selected participants.  Finally, after all the visa procedure we as a group from Kosovo had to go through, the 20th of October came and we left to Sweden, all packed and ready to get an amazing experience.
We arrived as the last group at the cabin with a warm welcome by the Swedish and Serbian team.  They got us coffee, cookies and helped us accommodate.  We felt the good atmosphere already.  We started getting to know each other's names, profiles, what we study, what we work and so forth.  It was funny how in the very beginning we started giving nicknames to each other in order to remember the names easier.  Then we got some sleep and get ready and energy for rest of the week.
Workshops on norm-criticism, racism, social business, project development, team buildings and so forth, were just some of the activities that have left a huge impact on me and myself development.  There were things we discussed and information we gained that would help us broad our perspective and understanding.  Moreover, this exchange has given us plenty of knowledge on how we can run a project and make a change.
The programme itself was designed that way that gave us the opportunity to go and see those changes by ourselves through different study visits.  Study visits at Lund University Social Innovation Center (LUSIC), Roma Center in Malmo, Hassela Movement, Stenkrossen etc. All those visits have been a great examples of a change in a society.
Talking about the exchange "For Better Unity, Active in our Community", it is impossible to not mention the team work and the team building process.  The icebreakers, games, cooking, campfire, energizers, dancing in the kitchen, intercultural evenings, midnight walks, and more and more just got the whole team together and created a super-friendly team.  I would say we were a great example of togetherness, no matter our cultural backgrounds.
Big thanks go to FoTA, ARDHMERIA and Indigo.
Forever grateful!"
Katarina Palushaj, participant:
"When we arrived at Torna Hällestad I've never imagine that I will leave that place feeling so rich in the inside.  Maybe It wasn't the place, but the people the experiences, the knowledge and the whole different point of views that we gained there, made that week unforgettable.  That night we arrived there, we started to learn each other's names and I said to myself, there's no way I am going to learn all these names.  And in the last day of the training, I've learned more than their names, I've learned their habits, their point of views, their thoughts in particular themes.  It's kind of funny because when I've chosen to apply for this training I had those prejudices, I didn't even imagine that the whole process will be such a spectacular experience.
I've never excepted to be this, this good!
Firstly, I was surprised with the warm welcome that FoTA, and the Swedish team did to us.  I was impressed how much effort they have put in this project, and how managed to accomplish every wish and every need we had.  I have also to mention the lectures that change a lot in ME as a person to see things differently and giving me a change in my point of view, like as: Peter's lecture, the visit to Hassela, the visit to the social center at the Lund University, and the visit we made to the mayor of Lund.  All of them were so inspiring, I can just say that I came home with a whole baggage.  And for the topic that Serbians and Albanians can't get along together, we proved everybody wrong, I really would like that everybody to know that we can work together, we can get along together if we just have patience, and accept each other and let the past in the past.  It's so good to break the walls, and be happy neighbors in Balkan as we were there in our house.  I just want to mention that, this week was one of my best weeks ever.  Most of all I am happy I've met all those wonderful people there, people that I'll never forget.  Thank you everyone for being a part of it."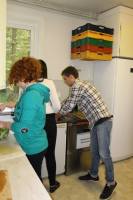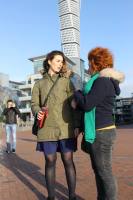 Dhurata Berisha, participant:
"
To start with the good luck I had just a day before I left Kosovo!  I was that one person who got the visa at 3:00 p.m the day before I had to fly… so very stressful but with a happy ending.
We arrived by the evening in Lund, where we were welcomed by the Serbian and Swedish team with smiles, hugs and of course… hot tea!  I could feel the coziness and the warmth of that cute cabin at the first moment.  Since the very first days everything was well organized, we were divided in groups and every group every day had their duties, such as: preparing the menu, cleaning-up, setting-up, cooking (my favorite one), washing dishes and so forth.  I hope everyone improved their cooking skills at least.  What was more important during the training is that we never forgot to smile – I saw the happiest people in the kitchen washing dishes and dancing in the same time.
Further, regarding the content and the timetable of the training, I would frankly say that was well thought and detailed.  We had workshops in the cabin as well as study visits and workshops in different places.  I would mention some of them:  Lund Social Innovation Center, Hassela movement, Miša's workshop, Roma Center, Municipality Visit, workshop about Racism and so forth. I, personally, gained new useful information in every single visit, workshop or presentation.  We were surrounded by inspirational and motivational people who made me see things in a different perspective.  In addition to that, I have to mention the understanding and the effective communication we had with the hositing organization FoTA, they were there for everything we asked and needed.  I felt like home!
Furthermore, we also had games, energizers, free activities, city tours, afternoon and midnight walks through the trees and golden leaves, the campfire, intercultural evenings, movie night… of course I could not sleep well without playing Mafia or Wold every night.
Moreover, one the best moments in this training was Kosovo's evening.
All together enjoyed the presentation a little bit of the history, tradition and geography of our country followed by the traditional food/drinks and music.
In short, I can truly say that this was a very useful experience and a great opportunity.  Some opportunities only come once, seize them.  We met new people and now we are friends, weeks later from the training we are still in touch and miss each other.  Life is only as good as the people you get to share it with! In the end, I would like to finish with a saying a read lately: Open your mind, arms and heart to new things and people, we are united in our differences.  Life is about the people you meet and the things you create with them.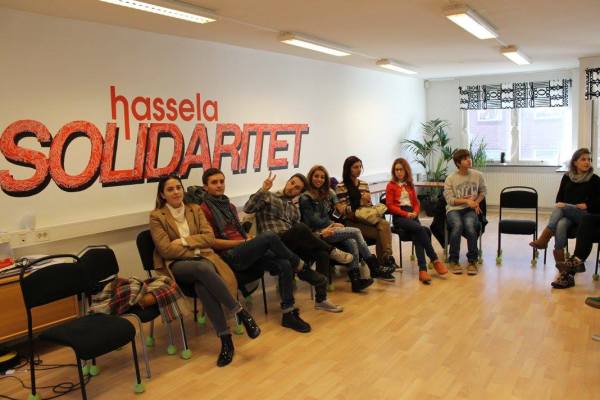 Albert Lekaj, participant:
"This exchange taught me a lot of things.  I've learned how communities can live together, how people can live and prosper even though they had conflicts.  Learned how to write projects in a professional way.  And a lot of things about Serbian & Swedish cultures.  Everything was so enjoyable in it, starting from the program and going to the whole team, the organizers and both, the Serbian and the Kosovo team.  I would add something in all this exchange.  I think that other countries from Balkans should have been involved in this exchange, knowing that the Balkans was in a conflict and it is still separated in many aspects.
I think that we should live together in this space and these kind of exchanges help us do that, to live together and prosper.  The whole week was full with a lot of activities, everyday we learned new stuff, everyday we experienced something new that made us think differently.  The organizing team was perfect, starting from Misa and going to Cim and Peter and the whole FOTA group, everyone did their best regarding to their responsibilities.  I will never forget Cimi waking us up every morning with MORNINNNNNG.
I think this was one of the best experiences of my life, and for this I would thank FOTA, Youth Center ARDHMERIA and INDIGO."
Artan Lekaj, participant:
"In my opinion it was great!
It is always good to meet new people with different experience, and for the "training" it was the best thing that I ever been, so I'm really happy that I was part of it.
During the exchange I learned a lot of things, so now I have an idea how to write a project if I want to try to be a change in our society.  So I can see deeper in a problem, and how we can help with our capacity there when is needed and with little help we can do big changes.
Everything was good, the lessons and the workshops were awesomely organized.  Even the people were happy during the exchange and I saw that in their faces, everybody was happy all the time.  Every day was different from the other, so every day we learned new things and share our experiences with each other.
In the first days, it seemed a bit too much of the programme but with a conversations and some compromise we decided to change it a little bit and have some more free time and enjoy each other more.
The accommodation was good, the place where we stand was perfect for the exchange, and during the nights I had a great sleep which is very important for the week like that.
I am really happy that I was part of this exchange, and thank you for making this possible.
I'm so much looking forward to next project we can have together.  Thank you once again!"
Granit Gashi, participant:
"All this journey started on 20.10.2015, when we planned how to travel to Sweden all together and from that moment I realized that we are a good team and beside the learning we can also have fun and enjoy the whole week together.  When we arrived in Sweden we were tired and sleepy, but next morning was another day that we started the program.  I really like the planning of the time from FoTA, they were very correct and make the program more attractive to us.
We learned a lot in this training, starting with the communication between Serbian, Kosovo and Sweden team, we build a new social life together and connect each other to stay in contact after the training.  I really liked some part of the programme more and yes, the most interesting was the HASALA MOVEMENT, they do a great job in a short time so it was new to me and I really enjoyed it.  I really enjoyed this training and I really like to be in touch with this organization again and make another training like this.
Thank you ARDHMERIA and FoTA for this opportunity!"
Alberina Isufi, participant:
"Good Mooooorning!
I literally don't know where to start by describing the experience I had in this Exchange.  I enjoyed every single moment of it, and it has grown me as a person.  Many awesome people, great ideas, friendly atmosphere were just some of the pieces of this project. I learned so much about myself first and then the other topics or other people's culture.  As we were 7 youngsters from Kosovo whom I knew before but I never really thought we could bound that good with each other and give the best for the whole project.  I liked the idea of team work throughout the whole week.  It got us all together as one, regardless our cultural background.  Because at the end, we are all humans, and that's what matters.
I would like to thank ARDHMERIA for selecting me to be part of this great project, FoTA for doing an amazing work with us and Indigo and all the Serbian participants for their kindness and their friendliness.
Whenever I hear the name Sweden, I will immediately think of you guys and the great week we had together."